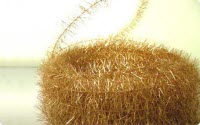 DC-CST Conductive Copper Tinsel
Degage Corp. Conductive Copper Tinsel is an inexpensive way to eliminate static charges on such items as paper presses, printing presses,paper and rewind rolls and all wide web industrial applications.
Conductive copper tinsel is generally used in the printing and weaving industries to eliminate the flow of static that is generated by wide web machinery. Copper tinsel strung across the web of a machine and spaced 1/32nd. Of an inch above the web will direct all accumulated static charges to ground, and eliminate most, if not all, tribo- charging.
Degage Conductive Copper Tinsel is packaged 24 coils per master carton. Each coil is 1 ½"x12 yd. in length for a total master carton length of 864'.
Price: $200.00 per master carton. Minimum sales unit is 1 master carton. Terms: Net. Master Card and Visa only with an additional 3.5% service charge added. Shipping and Handling is $12.00 U.S. per master carton which DegageCorp.will ship prepaid to any U.S. location. Delivery is immediate from warehouse stock.