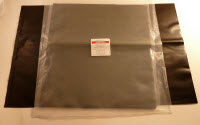 Cleanroom Class 100 Black Conductive Poly Bags - ISO Class 5 - MIL-P-82646A - JPG-5322-1 Level 100 - 3Mil, 4Mil

What Is ESD Protection?
DegageCorps. low density, black carbon loaded and sealed, conductive 105th​ OHMS/SQ bags and film are extruded in a FED. Cert209E cleanroom from a special resin that contains no release agents or slip agents, our black conductive bags are fabricated in line and are generally made in 3mil or 4mil and are used for the packaging of circuit boards or other static sensitive electronic items. Our black conductive bags and film will meet and exceed the cleanliness requirements of JPG 5322-1 Level 100 as well as ISO 14644-1 Class 5 and are specially designed for admission into a class 5 cleanroom environment. DegageCorp. black conductive bags will also meet military specification MIL-P-82646A.
What Is JPG 5322.1G? What Is JPG 14644? What Is MIL-PRF-82646 A? BPA Free Guarantee BSE TSE Animal Component Free Guarantee Latex Free Guarantee