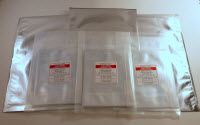 DC-7050-C Static Shielding Cleanroom Zip Lock Bags JPG 5322-1 - Level 100 - ISO Class 5

What Is ESD Protection?
DegageCorp. Class 100 - ISO Class 5 - "Metal-In" static shielding zip lock bags, are identical to DC-7000-C with the addition of a Zip Lock, reclosable feature and they will meet the spec MIL-PRF-81705D Type III as well as the particulation requirements of NASA JPG 5322-1 Level 100 and ISO 14644-1 Class 100. All bags are fabricated inside of a Fed Cert 209e cleanroom using a special zip lock system that assures a air tight seal for use in a Class 5 Cleanroom. All sizes are available in mil thicknesses of 2mil and 4mil, average delivery time is 3-4 weeks.
Physical Properties
Test Method
Specifications
Thickness
PST #001
3.0 Mil
Yield
PST #002
9000 Sq. In/Lb
Tensile Strength
ASTM D 882
15LBS/IN
Puncture Resistance
FTMS 101C Method 2065
>13 LBS.
Tear Initiation
ASTM D 1004-94A
>2 LBS.
Mullen Burst
ASTM D 774
84 PSI
Seam Strength
ASTM D 882
>12 LBS/IN
Haze
ASTM D 1003
4%
Optical Density
.40
Transparency
ASTM D 1003
40%
Heat Seal
3750F 0.5 SEC 60 PSI
Blocking
NONE
Electrical Properties
Test Method
Specification
Surface Resistivity
ASTM D 257 at 15% RH
PE<1011 OHMS/SQ PET <1011 OHMS/SQ
Electrostatic Decay
FTMS 101 Method 4046

.

01 Sec
Capacitance Probe
EIA-541
<10 Volts Difference
Metal Layer
ETS-8C3 at 15% RH
<100 (OHMS)
Meets or exceeds electrical requirements of MIL-PRF-81705D

,

Type III, Class 1
Chemical Properties
Test Method
Specification
Contact Corrosivity
FTMS 101C Method 3005 (sodium Fluoride Phosphate & Sodium Ions)
No Visible signs after testing at deterioration.
Cleanroom Zipper bags - Cleanroom Static Shielding - Cleanroom gusseted - Cleanroom Zip Lock - Class 100 Zipper bags - Class 100 Gusseted - Cleanroom Zipper Packaging - Class 100 Zipper Packaging